25% Off Sitewide + Free Shipping
Expires: Ongoing
25% Off Sitewide + Free Shipping
Expires: Ongoing
35% Off PLUS Free Shipping on Your First Week
Expires: Ongoing
35% Off PLUS Free Shipping on Your First Week
Expires: Ongoing
Extra 5% off all Current Coupons
Expires: Ongoing
Extra 5% off all Current Coupons
Expires: Ongoing
EXCLUSIVE - 45% off First Week of 7-Day Plans (Only $99!)
Expires: Limited Time Only
EXCLUSIVE - 45% off First Week of 7-Day Plans (Only $99!)
Expires: Limited Time Only
EXCLUSIVE - 34% off First Week of 5-Day Plans (Only $99!)
Expires: Limited Time Only
EXCLUSIVE - 34% off First Week of 5-Day Plans (Only $99!)
Expires: Limited Time Only
$25 Off Your First Week
Expires: Ongoing
$25 Off Your First Week
Expires: Ongoing
Bistro MD Official Coupon Page
Expires: Ongoing
Bistro MD Official Coupon Page
Expires: Ongoing
About Bistro MD

Bistro MD is a meal replacement program that incorporates the combined efforts of gourmet chefs and nutritionists and physicians to design nutritious and healthy meals that are low in calories while still packed with all of the essential nutrients, vitamins and minerals needed to maintain healthy bodily function.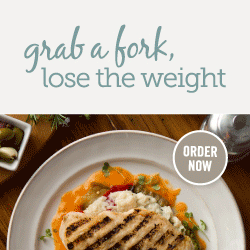 The meals at Bistro MD are made from fresh ingredients and the meals follow the proper nutritional guidelines as established by national health organizations. Bistro MD also offers free dietician support to their members, and other types of support needed to motivate members through tough times. Bistro MD offers 4 convenient plans to choose from – the 5 or 7 day plan that is with or without a snack. Members are able to choose their own meals every week, and have it shipped to their home through FedEx. Members do not have to count calories. Instead, Bistro MD has already counted all calories needed for breakfast, lunch and dinner. Even the snacks are accounted for. The meals are delicious as they are prepared by gourmet chefs, and the plan will attempt to curb one's cravings and cause them to avoid indulging in gluttonous moments. Bistro MD is dedicated in being able to provide customized plans that are able to cater to members' allergies, and religious and dietary restrictions. Members can order their meals either online or by phone.
What We Like:
Different Intensity Programs: There are different intensity programs available. Some may want to spend all 7 days of the week working to lose weight whereas others may want to only try doing so for 5 days a week. Those who are committed but would like some leniency will be able to add snacks into their plan. There are numerous different types of cuisines and snacks available. By being able to have free days during the 5 day plan, new members are able to transition into the plan a lot easier than imagined!
Well-Packaged, Fresh Food: The meals prepared at Bistro MD are made from fresh ingredients; thus, they taste delicious. While the meals are shipped to one's home, the excessive amount of packaging will literally lock in the freshness so that the meals taste as if they were just prepared moments ago! The meals are well-packaged and protected.
Convenience: The meals from Bistro MD can be easily prepared with very little hassle. In fact, most of the meals can be heated up with a microwave or an oven within several minutes. There is no cooking required, and the meals will still taste delicious! Some meals will need to be thawed before heated. Those who do not wish to wait for the meals to thaw will be able to throw the meals into a hot bath. This will expedite the entire heating process, and the meals can be prepared in a more efficient manner.
Variety: Eating the same thing on a weekly basis can get boring fast! Knowing this, Bistro MD is able to offer new menus and new dishes ever so often. Members who are choosing their weekly meal will be able to select their preferences from a diverse menu of different types of foods. The meals will be prepared to satisfy different preferences and taste buds. The menu is also constantly changing, and members will be able to enjoy different additions of cuisines and dishes.
Online Support: Bistro MD is able to provide numerous different venues that will be able to provide support to members. The online community and forum has been particularly popular. Members are able to contact dieticians and other professionals who will be able to help walk them through each step of the meal replacement program. Professionals are on-call to answer any questions and inquiries at any time as well.
No Commitment: There is absolutely no commitment in joining Bistro MD, and unlike other meal replacement programs, they do not require their members to pay any membership fee. Members are able to join the program by purchasing meals on a weekly basis. A week's worth of meals will cost approximately $150 for breakfast, lunch and dinner, and those who want to leave the plan will just stop ordering the next weeks' worth of meals. Members are not committed to weigh ins either which may place less stress on some giving them the independence that they need to excel.
What We Don't Like:
No Flexibility: Since the meals don't have calorie information and won't require members to count calories, members are stuck eating the meals that are prepared. This leaves very little flexibility to dine out or to add different snacks into one's diet without going over the calorie limit. Members who want to sneak a chocolate bar or two won't have that luxury.
No Maintenance Plan: Transitioning out of the program can be difficult for some members, and one of the downfalls of Bistro MD is that they are unable to offer a maintenance plan that will be able to help members maintain their weight without gaining any after leaving the program. There are several other meal replacement programs on the market that will be able to provide specially designed maintenance and a transition plans for members who are interested in being able to educate themselves on how to maintain their weight. These plans will up the success rate.
Our Verdict:
Bistro MD is perhaps one of the stricter meal replacement plans on the market; however, they have been renowned as a reputable company due to their ability to constantly provide nutrient rich meals to members. Bistro MD is able to offer convenient meals that can be prepared within minutes, and they taste absolutely delicious. The meals are always made from fresh ingredients, and since there is no commitment involved with this meal replacement plan, members are able to leave and stay as they wish. There is no stress at all. Those who do not believe that the program is for them or those who do not see any results can always just quit without having to worry about any extra charges. The only problem is that there is little flexibility in regards to outside food that can be added, and maintaining the weight loss after quitting the program can be rather difficult.