Treadclimber TC200 Coupons
Black Friday Coupon!
Expires: 11/27/17
Black Friday Coupon!
Expires: 11/27/17
TC200 US - Save Over $1,308 (Includes Free Shipping + Free Mat)
Expires: 11/27/17
TC200 US - Save Over $1,308 (Includes Free Shipping + Free Mat)
Expires: 11/27/17
TC200 CANADA - Save over $1,688 (Includes Free Shipping + Free Mat)
Expires: 11/27/17
TC200 CANADA - Save over $1,688 (Includes Free Shipping + Free Mat)
Expires: 11/27/17
What We Like About the Treadclimber TC200
The TC200 is Built With Quality in Mind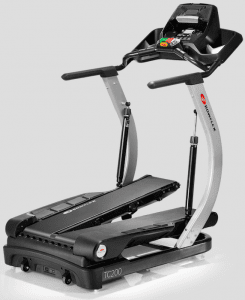 Bowflex created its TreadClimber series of products as one that features a variety of attractive functions. The TreadClimber series of treadmills does more than just work as basic treadmills. Each model can be used as a treadmill, an elliptical trainer and a stair climber. Simply put, each model is more than just a treadmill. The Bowflex TreadClimber TC200 is a special new model just released in late 2015 that will give you an amazing workout. This uses the two-treadle system that other TreadClimber models uses and has a variety of other added features guaranteed to give you the best workout you could ever ask for. The TC200 has a quiet motor that is efficient and consistent as it works for the two treadles. These treadles are a little longer than what other TreadClimber models use so you can get more space to walk on without any obstructions coming in the way of how you are moving.
The treadles can handle some strong movements as well. You can go up to 4.5 mph on this treadmill. This should be easy to handle without being far too complicated or otherwise tough to run on.
This treadmill is so efficient that you can actually burn about 2.5 times more calories on this than what you'd get out of a typical treadmill. The added functionality of the treadles and your ability to move up and down in a consistent manner while walking will help you get a more efficient workout going while stimulating more of your muscles.
The TreadClimber system also helps you to improve your energy levels as you'll get more parts of your body worked on through all the mechanisms used here. You can even keep back pains from being a threat to your daily life when you use this.
Watch the TC200 in Action!
The TC200 Comes with a Great Console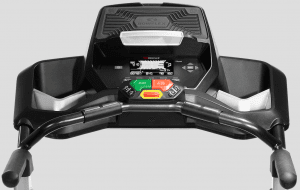 The console on the TC200 features a colorful LCD display that uses five workout programs. These include some of the free Motion Traxx workouts that are available through Bowflex. These workouts are designed to help you get the most out of your workout by using a series of proven intervals and strong movements to make it fully functional.
You can get four different user profiles added onto the console. Each profile can be adjusted based on preferred workouts and particular goals that might come about. Individual profiles can also be set up with their own special settings in terms of how the machine is to be adjusted and ready for use as desired. This feature is important for cases where you might have other people using the same model and you need all of them to get access to their own special settings.
The console also covers all the information about your workout that you could ever ask to know. You will get information here on your heart rate, the speed of your walking, the time you are walking on and how many calories you are burning. All information can be saved onto your profile or even to a separate mobile device that you have an application installed on.
Linkin With More Tech Features with the TC200
The TreadClimber TC200 can work with its own application that you can add onto your mobile device. You can use this or another program like MyFitnessPal or the Apple Health Kit to keep tabs on your workout and to keep your machine under control.
The Bluetooth connectivity feature of the TC200 especially helps you keep in tune with your workout. This features a design where you can use your app to sync up with the treadmill so you can keep track on your workout statistics, keep a log of how you use your machine, adjust the features on the machine and so forth.
You can particularly use the USB port on the treadmill to link up your mobile device to it. This allows you to use the Bluetooth connectivity feature without forcing you to drain your battery power as you use it.
A media shelf is also included on the treadmill. This will allow you to keep your smart device up and stored well while walking.
The TC200 is Easy to Handle
This treadmill is also easy for you to handle from a physical standpoint. You can take the treadmill and fold it down when you don't have to use it. You can even wheel it into a separate spot when you use the convenient and easy to use wheel system to get it out of the way. This in turn helps you get the most out of your treadmill so it won't be all that hard to use.
TC200 Comes with Great Accessories
There are a few additional accessories that are available for you to try out when getting this great device to work for you. You can use this alongside free weights or even weights that you can strap onto your body. You can also use a heart rate monitor that can go onto your chest to get a more detailed review of your workout and how you are moving. This can be easily plugged into the USB port on the TC200 so it won't take long for you to get it ready for use.
TC200 Can be Bought at a Great Deal
Today you can find the Bowflex TreadClimber TC200 for $3,299. This is the base price that Bowflex has set for this model. This is a good deal for a treadmill that works with three separate functions in the same body.
This also comes with a guarantee stating that you will enjoy the product and that you will get the best results out of it. You can always return it and get a full refund within six weeks if you are not satisfied with the quality of the product or the results you are getting.
There's also a three-year warranty on this model. This Worry-Free warranty ensures that you will be covered for any maintenance or unexpected repair costs that may come about.
You can also contact us for information on special deals that we have to offer. We have many great offers that you can use through us to get the most out of your budget for a great workout machine. These include various deals on shipping and other items available through us.