Medifast is considered as one of the most effective and efficient meal replacement programs on the market for several reasons. They are able to offer a diverse menu specialized for women and men, and meals are safe for those with type 2 diabetes. They incorporate one simple plan that involves members consuming 6 meals a day, once every 2 to 3 hours in order to achieve a fat-burning state.
This method will also help to curb cravings, and keep members feeling satisfied and full on a daily basis. 5 of the meals are prepared by Medifast, and 1 meal will be self-prepared. The self-prepared meal will consist of lean meats and vegetables. In addition to providing easy-to-prepare meals that can be consumed upon heating, Medifast is renowned for the numerous different types of support teams that they are able to offer to their members.
Top Medifast Coupons for March 2018
1.

$35 Off & Free Shipping Orders of $350+

Expires: 3/30/18

$35 Off & Free Shipping Orders of $350+

Expires: 3/30/18

2.

$25 Off & Free Shipping Orders of $250+

Expires: 3/30/18

$25 Off & Free Shipping Orders of $250+

Expires: 3/30/18

3.

$15 Off Orders of $150+

Expires: 3/30/18

$15 Off Orders of $150+

Expires: 3/30/18

4.

Take 30% off of 30-day Select Kit, w/renewal plan

Expires: Limited Time Only

Take 30% off of 30-day Select Kit, w/renewal plan

Expires: Limited Time Only

5.

Get 7 Days of Medifast Meals Free!

Expires: Ongoing

Get 7 Days of Medifast Meals Free!

Expires: Ongoing
Learn How to Apply Your Medifast Promo Code

Simply select a code from above that provides the best savings for your purchase
At checkout, you will see a box similar to that above labeled " Apply Code Below"
Place your code in the box, hit "Apply" and your savings will be calculated!
In addition to immediate support, Medifast offers a transition and maintenance plan for members to keep the weight off even after quitting the program! Meals can be ordered online. The effects of Medifast meal plans have been researched by scientists in clinical studies with positive results.
What We Like About Medifast Meals: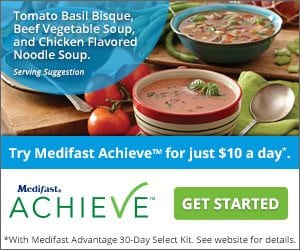 Variety: Medifast offers over 70 different choices in their menu with delicious foods like shakes, soups, stew, oatmeal, fruit drinks, pretzel sticks, crunch bars, and more. The different choices will be able to satisfy different taste palettes and dietary preferences. There are also different customizations that can be made to cater to allergies and also religious and dietary preferences.
Efficiency: Unlike other meal replacement plans, Medifast focuses on being able to provide efficient results. Not only will the meals be able to help keep members feeling full and curb any cravings, but the meals will also be able to ensure that members are generally able to lose 2 – 5 pounds the first two weeks, and 1-2 pounds each week thereafter. This is perhaps one of the fastest ways to lose weight in a healthy and safe manner.
Safe: Some diets are unhealthy and may actually lead to different health problems, but Medifast has been recommended by over 20 000 doctors ever since 1980 to combat obesity with over a million success stories. Each meal is packed with at least 24 essential nutrients, vitamins and minerals for optimal nutrition. The meals are also approved by physicians and fit in the nutrient guidelines as established by numerous national health organizations.
Convenience: The meal plans are extremely easy-to-prepare, and can be done so within a short period of time. There is absolutely no cooking involved, and most members will be able to heat up the food by either microwaving it or placing it in an oven. All of the nutrients needed are already incorporated into the meals, and members do not have to count calories or keep track of the vitamins and minerals consumed in order to lose weight. Just by simply following the diet will help many achieve their weight loss goals!
Inexpensive: Medifast offers cheap programs that are extremely affordable. Most people who are attempting to lose weight will generally have a tendency to eat out or overeat. Medifast offers meal programs that are cheaper than dining out. They also ensure that each meal is served in appropriate proportions. Most members on this meal replacement plan will find that they are able to save a lot of money that would otherwise go towards dining out. Best of all, if you spend up to $250, you can Save $66 by using Medifast Coupons.
Support Team: Members of Medifast are able to enjoy several different support teams that have been known to be very encouraging and motivational. These support programs have been known to help many members during rough times. Encouragement can be received through the online support community known as MyMedifast, through the Take Shape For Life program where a knowledgeable health coach guides members through the entire program, and by visiting a nearby Medifast Weight Control Center for personalized counseling. Members are also free to acquire other means of support if they choose. For example, some members with health problems may prefer working with their physician instead.
Transition Plan: The transition plan is especially useful for those who are interested in being able to maintain their weight upon quitting the Medifast program. The objective behind the transition plan is to gradually increase one's calorie intake while also expanding the variety of ingredients that were once off-limit. The transition plan will take approximately 6 weeks to complete, and members will increase their calorie intake from about 850 to 1100. By slowly transitioning off of the pre-prepared meals by Medifast, members are able to avoid gaining weight.
Maintenance plan: The maintenance plan is one step after the transition plan and designed to help members maintain their ideal weight. It incorporates 3 full meals, and 3 mini meals throughout the day. The maintenance plan will also teach behavioral techniques that will help curb cravings and keep consumption levels under control. The maintenance plan incorporates numerous different educational sessions, so that members are well-informed on how to stay fit and healthy.
See What Medifast Members Have to Say:
What We Don't Like About Medifast:
Space Consuming: The meals offered by Medifast will arrive in little boxes. This can be rather space consuming for some, and those living in apartments may have some difficulty finding storage space available, especially when the orders for the next couple of weeks start coming in. Each meal comes in its own box, and has a lot of packaging to keep in the freshness.
Our Verdict:
Weight loss can be easily attained with Medifast, and there are numerous different types of customizations that can be made to the program in order to satisfy each member's individual needs and expectations. Not only is the program extremely effective and convenient, but Medifast will offer a menu that has been pre-approved by physicians and nutritionists. Despite the numerous amount of packaging involved with the program, most members are able to cope with this program due to its affordable nature. All meals are pre-prepared using fresh ingredients, and the meals have been known to be rather tasty. The transition and maintenance program along with the support system has been proven to be extremely effective. The maintenance plan is perfect for those who have reached their goal weight and are looking to keep the weight off. Medifast is definitely a great program for those looking to lose weight as the program will be able to provide nutritious meals packed full with essential nutrients, vitamins and minerals.