Get 15% off Your First Week
Expires: Ongoing
Get 15% off Your First Week
Expires: Ongoing
Get 10% off Your First Week
Expires: Ongoing
Get 10% off Your First Week
Expires: Ongoing
About Diet to Go
Diet to Go is one of the more convenient meal replacement plans on the market for several different reasons. Not only are they able to provide diet food delivered to one's door on a weekly basis, but they have 3 different types of meals to choose from. Each of which is catered to a specific audience.
Diet to Go has a vegetarian menu, a low-carb menu, and a traditional menu. Upon choosing the selected menu, members are able to place an order based on the amount of calories that they want to consume in a day. The current choices are 1200 or 1600 calories. Members are able to choose between a 5 day plan and a 7 day plan, and will be able to order breakfast, lunch and dinner or just lunch and dinner. The menu is catered to different consumption preferences. The menus can be easily ordered on the phone or through their website, and can be easily altered and customized online at any time without any additional charge or fee.
What We Like About Diet to Go:
Free Diet Analysis: Members who are unsure of what to expect will be able to utilize the free diet analysis program that is available. Not only will they be able to use the program to calculate their own body mass index, but they will be able to learn about how the Diet to Go program will be able to help them achieve their own weight loss goals. The diet analysis will provide information on how to eat healthier, and the type of diet that one should follow in order to lead a healthier life! It can even provide an estimated time that it will take for members to reach their goal.
Best Value: In comparison to many other meal replacement programs on the market, Diet to Go has been known as the meal replacement program with the best value. Not only is the meal more affordable than programs like eDiets and Bistro MD, but the shipping fee is also cheaper as well despite being just as fast as the others. Diet to Go can be cheaper than dining out.
Convenience: The Diet to Go meals can be easily prepared. Some are made from fresh ingredients, and can be literally consumed as-is. Others may require members to microwave or heat the meals before consuming. Preparing the meals will literally take only several minutes, and the meals taste amazing! It's comparable to dining out! Meals are already packaged into the needed proportions.
Strong Comparisons to Other Plans: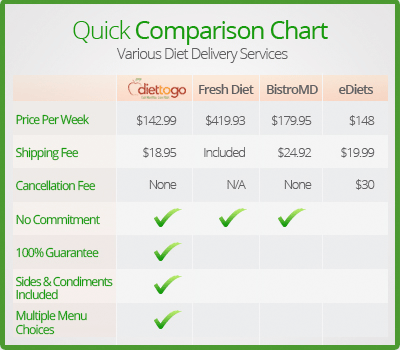 Varieties and Choice: Diet to Go offers features in meals that many other diet programs are not able to such as Medifast. For example, they are able to provide members with fresh, non-frozen delivery. Their food is prepared at a local pickup station, and some members may even arrange to pick up their own meals instead of opting for shipping. Last but not least, Diet to Go will include all of the side items needed in their meals. This will include the condiments, the fruits, the sides, etc. They have a diverse menu, and members are able to choose between several different types of cuisines. They have also been rated as the best tasting diet by epicurous.com.
Flexibility in Substitution: Diet to Go is dedicated to the individual experience, and they will aim to cook meals that are catered to each member's preference. Members are able to look at the meals that will be sent to their doorsteps the next week and contact the company to make any alterations and substitutions to the meals. All of the substitutions and adjustments are done so without any additional charge. It is also hassle free.
Online Support and Information: With motivation being one of the key issues for those who are on diet programs, Diet to Go offers a unique Facebook page filled with helpful advice and information for their members in regards to weight loss. Members are able to interact with one another through the page, and also support one another by posting tips and helpful advice. Support is available everywhere! There is a live chat option available as well, and members can contact a representative of the company at any time to ask questions. New motivational quotes and health articles are posted on a regular basis by the company.
No Commitment: No commitment is involved with the program. Members are not required to pay a membership fee, and will only need to pay for the meals that they purchase every week. Due to this reason, those who believe that the program is not working for them or those who want to quit will be able to do so without any repercussion. Other programs will charge members cancellation fees. Since there is no membership fee, joining the program is also rather easy. Members can stop and start whenever they like.
100% Satisfaction: Diet to Go strives to be able to provide high quality customer service support to their members. There are no gimmicks involved, and if at any time, members are unhappy with the services and meals that they receive, they can contact the company for a full refund. If not, Diet to Go will attempt to make things right by compensating their members. They are able to offer prompt customer service support.
What We Don't Like About Diet to Go:
Local Pickup Stations are Not Available Everywhere: Unfortunately, Diet to Go is not able to offer their pickup services for everyone, and since there are limited amounts of pickup stations available, not all members will be able to find one nearby. These members are forced to have to pay shipping instead. Luckily, the shipping fee is one of the lowest around, and definitely affordable!
Our Verdict:
Diet to Go is considered as one of the more reputable meal replacement programs on the market, and they have numerous benefits to their program. Not only are they able to offer amazing meals that taste delicious, but they are also able to provide excellent customer service and support to their members. They are able to provide fresh ingredients in their meals, and are one of the most affordable diet programs around. In addition, they offer a flexible program. The meals are effective, and there have been many reported success stories from those who have followed the recommended diet.